I had the live Google Street View images here, but it took to long to load. To make one of the Google Street View images live, click on it.
"The start of Route 66 has moved a few times. Originally, Route 66 began on Jackson Blvd. at Michigan Ave."
quote from The Mother Road: Historic Route 66
"Being converted into a Greek restaurant. ... John J. Murphy Filling Station ... build about 1925 ... Castle Car Wash during the 1980s"
quote from Route 66 News formerly at rwarn17588.wordpress.com/2009/08/23/castle-car-wash-being-restored. <! from above According to research by roadie David Clark, the Castle Car Wash building also was known as the John J. Murphy Filling Station. The stone, castle-like station, on Route 66 at 3801 W. Odgen Ave. in Chicago, was built about 1925 and was operated by Murphy for more than 40 years. It became an S&B Standard Service and a Gas City during the 1970s, then a Castle Car Wash during the 1980s. It was deemed eligible to the National Register of Historic Places in 2005. Until recently, it was owned by a towing company. >
<!quote Bunyon's Hot Dogs (closed) on north side of Ogden Ave. at Lombard Ave. This was the site of one of the muffler men, holding a giant hot dog. The muffler man is now relocated to Atlanta, IL. on Route 66 since 2003 after being in Cicero since 1963 at 6150 W Ogden Ave.>
"At the intersection with HarlemAve (IL-43), a choice of alignments is available:
pre 1928
Continue on Ogden Ave. at the intersection with Harlem Ave.
post 1928
As you enter Lyons, turn south (=left) at the White Castle onto Harlem Avenue (IL-43)."
quote from The Mother Road: Historic Route 66
8147 Joliet Road, McCook(NE corner of intersection of Joliet Road and Lawndale Avenue), site of TURN-IN-TIME RESTAURANT & LOUNGE ?-~2002. Picture was taken out the window of my Chrysler Fifth Avenue shortly before the building was torn down. Compass Fuel Store currently at the site is shown in the Google Street View image <!http://www.facebook.com/group.php?gid=113373468679566 Email: tsvrakic@compassholding.net Website: http://www.compassholding.net Office: (630) 789-5871 Location: 15W580 N Frontage Rd., Burr Ridge, IL http://www.compassfuel.net/ 8147 W Joliet Rd, Mc Cook, IL 60525 > <!http://www.yelp.com/biz/snuffys-mccook>
"There is a detour south of Lyons, bear right onto 55th St. and turn next left onto East Ave. to rejoin Joliet Rd. after 0.5 mile. Joliet Road runs between two quarries, is structurally damaged and unlikely to reopen any time soon."
quote from The Mother Road: Historic Route 66
Site of the Wishing Well Motel 1941-2007(11/13) is a few miles down the Joliet Road after making this right hand turn to get off the detour on East Avenue. rwarn17588.wordpress.com/2007/10/17/wishing-well-motels-razing-is-imminent
<! Site: Wishing Well Motel on Joliet Road at Brainard Ave., built in 1941. Originally built as 10 cabins, later converted into one building with 19 rooms. There actually is a well in the yard of the motel. Address: 6305 S Brainard Ave. torn down 2007(11/13) The Wishing Well Motel was bought by Charles and Mary Vidas, Zora's parents, Zora and her husband, Emil n 1958. They were partners until Charles's death in 1984. Emil also died in 1984. Mary and Zora were partners until Mary's death in 1996. Robert C. Vidas (son of Charles and Mary; brother of Zora) >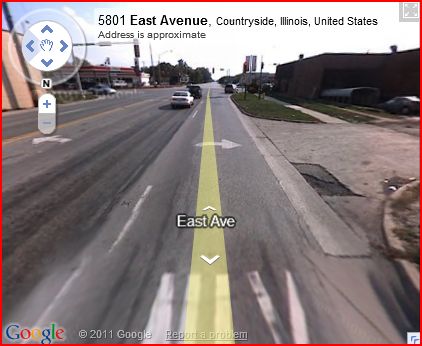 <!a href=http://rwarn17588.wordpress.com/2007/10/17/wishing-well-motels-razing-is-imminent> <!img alt='Click for Wishing Well Motel image' src=1589193645_318317a34a.jpg>
This is one spot where Google Street View stops. You can turn left or right on S Madison St but you can't continue on N Frontage Rd. A little further on the left on the Frontage Rd is a Seven-Eleven and then Dell Rhea's Chicken Basket.
Google Street View link of Route 66 Caffe in Rome, Italy near where my wife and I stayed in 2010.
Jackson south side going west
Michigan
Wabash
State
Garrett Popcorn Shop
27 W. Jackson Boulevard
Chicago
IL
60604
3122638087<!google><!8884767267 website><!CHCGILFRDS3>
Green & Murnighan Associates
33 W. Jackson Boulevard
Chicago
IL
3127820293<!gmaps yelp not much else in google CHCGILFRDS4 >
Dunkin' Donuts
39 W. Jackson Boulevard
Chicago
IL
3129393133<!CHCGILWBDS0>
Plymouth<!doesnt cross to north side of jackson> <!brandons dewitt hotel>
Dearborn
Optimo Hats
51 W. Jackson Boulevard
Chicago
IL
60604
3129222999<! CHCGILWBDS3>
Monadnock Building
53 W. Jackson Boulevard
Chicago
IL<!htc suite 450 312 447-0962 CHCGILWBDS2 > <! Intelligentsia Coffee Monadnock Coffeebar Monadnock Building Monadnock Building, 53 W Jackson Blvd · (312) 253-0594 CHCHILLEDS0 8950 ALLEGIANCE TELECOM, INC. - IL probably really 55 w jackson https://www.intelligentsiacoffee.com/monadnock-coffeebar National Anti-Vivisection Society https://www.navs.org/ 53 W. Jackson Blvd., Suite 1552 Chicago, IL 60604 800.888.NAVS (312.427.6065) CHCGILWBDS0 National Trust For Historic Preservation https://savingplaces.org/places/chicago-field-office Address: 53 W Jackson Blvd # 350, Chicago, IL 60604 Phone: 312-939-5547 CHCGILWBDS0 National Main Street Center Phone: 312-610-5611 7056 XO ILLINOIS, INC. https://www.avschicago.com/ American Visa Service, Inc Address: 53 W Jackson Blvd #1226, Chicago, IL 60604 Phone: (312) 922-8860 CHCGILWBDS3 Mignonette Bridal Address: Monadnock Building, 53 W Jackson Blvd suite 956, Chicago, IL 60604 773413-0580 984E BANDWIDTH.COM CLEC, LLC - IL Appointments: mignonettebridal.com Lasalle Extension University was a nationally accredited adlai stevenson went there not from nndb https://www.bannerpersonnel.com/contact-banner-personnel/ Banner Personnel Service, Inc (312) 922-5400 53 W. Jackson Blvd., Suite 1219 Chicago, IL 60604 P: (312) 922-5400 CHCGILWBDS3 F: (312) 347-1206 CHCGILWBDS3 des plaines libertyville naperville MEDICAL & INDUSTRIAL DIVISIONS same address diff tn than naperville Prehop Cleaners Harry's Sandwich National Securities Monadnock Tobacco Shop >
Zeglio Custom Clothiers<!zeh-lyo also bespoke tailor shop>
306 S. Dearborn Street
Chicago
IL
60604
3124310779<!CHCGILWBDS3 http://zeglio.com/ also East Lakeview, San Diego, La Jolla, Lagos(nigeria), Seoul>
A New Leaf<!florist LaSalle Extension University>
312 S. Dearborn Street
Chicago
IL
3124279097<!CHCGILWBDS0 1645 North Wells 1818 North Wells>
JC Jewelers<!jcjewelers.com>
316 S. Dearborn Street
Chicago
IL
60604
3125831258<!CHCGILWBDS2 >
Leffot
320 S. Dearborn Street
Chicago
IL
60604
3129645345 <!516C AT&T CORP. main store nyc https://leffot.com/ New Shoes Pre-orders Custom Made Shoe Care Socks Accessories Watches >
Florodora<!http://www.florodora.com/ women's clothing>
330 S. Dearborn Street
Chicago
IL
60604
3122128860<!CHCGILWBDS2>
Florodora Shoes
348 S. Dearborn Street
Chicago
IL
60604
3122128860<!sic> <!****************************>
Adams south side going west
Art Institute
Michigan
Borg Warner Building<!further south orchestra hall>
Wabash
State
Dirksen Building
Dearborn
Federal Office Building
Clark
Bankers Building
The Rookery<!Jacobs Bros Bagels>
208 S. LaSalle Building
LaSalle
Wells
Parking Garage (City of Chicago)
Franklin
Sears Tower Building Office
233 S. Wacker
Chicago
IL
60606
3128750066
Wabash
200 S. Wacker Building
Chicago River
Gateway Center Building 3
Canal
Union Station Amtrak
Ogden South side East heading West <!7332770755 not in infospace>
Paulina(S)
Hermitage(S)
Wood(S)
Van Buren(E)
Eisenhower(E)
Congress(E)
Wolcott(S)
Harrison(E)
Winchester(S)
Damen(S)
Polk(E)
Taylor(E)
Leavitt(S)
Roosevelt(E)
Oakley(S)
Western(S)
Campbell(S)
Tracks(S)
Tracks(E)
Rockwell(S)
Talman(S)
Washtenaw(S)
Fairfield(S)
California(S)
Greater Christian Fellowship
3161 W. Ogden Avenue
Chicago
IL
60623
7735228188
Thompson(S)
Sacramento Drive(S)
16th(E)
Kedzie(S)
Autozone
3939 W. Ogden Avenue
Chicago
IL
60623
7737628075
Sawyer(S)
Spaulding(S)
Christiana(S)
Homan(S)
Trumbull(S)
St. Louis(S)
Drake(S)
Central Park(S)
Millard(S)
Lawndale(S)
Ridgeway(S)
Hamlin(S)
Ayers(S)
Springfield(S)
Harding(S)
Pulaski(S)
Automotive Rebuilders
4401 W. Ogden Avenue
Chicago
IL
60623
7737622600
Cermak (22nd)(E)
Kedvale(S)
Keeler(S)
Tripp(S)
Kolin(S)
Kostner(S)
Automotive Rebuilders
4401 W. Ogden Avenue
Chicago
IL
60623
7737622600
Kenneth(S)
Enter Cicero south side of street heading west
Cicero(S)
Laramie(S)
59th(S)
33rd(E)
Austin(S)
60th Court(S)
61st Avenue(S)
61st Court(S)
Enter Berwyn at Lombard south side of street heading west
Lombard(S)
Kostner(S)
Harvey(S)
Highland(S)
Cuyler(S) <!6300-6320 3710>
Berwyn Ace Hardware
6316 W. Ogden Avenue<!infospace says 6316-18>
Berwyn
IL
604023710
7087956060<!zip says jansky ace hardware 3798>
Skylite Family Restaurant
6334 W. Ogden Avenue
Berwyn
IL
604023712
7087950088<!fax book and infospace 7087950103>
Convenient Food Mart
6338 W. Ogden Avenue
Berwyn
IL
60402
7087884454
King Burrito
6340 W. Ogden Avenue
Berwyn
IL
60402
7087956856
Ridgeland(S)
Berwyn Shell
6400 W. Ogden Avenue
Berwyn
IL
60402
7087490808
Richmond Electric CO
6416 W. Ogden Avenue
Berwyn
IL
60402
7087490044
?
6418 W. Ogden Avenue
Berwyn
IL
60402
708
Car-X Muffler & Brake Berwyn
6420 W. Ogden Avenue
Berwyn
IL
60402
7087493030
Elmwood(S)
Michael Anthonys Restaurant & Bar Inc
6434 W. Ogden Avenue
Berwyn
IL
60402
7084842222 number on sign 708484039<!not in infospace>
W N Auto Diagnostic Center
6440 W. Ogden Avenue
Berwyn
IL
60402
7087881850
Scrub-A-dub Coin Laundry
644? W. Ogden Avenue
Berwyn
IL
60402
708
Gunderson(S)
Monsie Unisex
6508 W. Ogden Avenue
Berwyn
IL
60402
7084848650
D Dibari (sign says COFFEE CAPPUCCINO ITALIAN PASTRIES)
6510 W. Ogden Avenue
Berwyn
IL
60402
7084840297
Nationwide Transmission & Complete Auto Service
6512 W. Ogden Avenue
Berwyn
IL
60402
7084848110
Scoville(S)<!LOCATION RIGHT WITH ANDERSON??>
Anderson Ford
6530 W. Odgen Avenue
Berwyn
IL
604023749
7087957900<!8005540518 neither at nsi>
East(S)
R & B Auto Body & Kustoms
6606<!thought sign might have said 6626??> W. Odgen Avenue
Berwyn
IL
60402
7084849400
Midamerica Bank
6620 W. Odgen Avenue
Berwyn
IL
60402
7082226200
Clarence(S)
Emmanuel Bible Church
6630 W. Odgen Avenue
Berwyn
IL
60402
7084841528
Wesley(S)
Autozone
6700 W. Odgen Avenue
Berwyn
IL
60402
7084847932
Century 21 A Hallmark Limited
6714 W. Odgen Avenue
Berwyn
IL
60402
7084428100
Happy Bear Child Development Center
6718 W. Odgen Avenue
Berwyn
IL
60402
7084847170
Mane Attractions Hair Studio
3525 Euclid Avenue
Berwyn
IL
60402
7087954466<!3225 euclid?? 6720 ogden>
Euclid(S)
(Weimer Machine) Automotive Repair Specialists
673(2-)8 W. Ogden Avenue
Berwyn
IL
60402
7087491600
Weimer Machine
6738 W. Ogden Avenue
Berwyn
IL
60402
7087493420
Mariella Flowers
6740 W. Ogden Avenue
Berwyn
IL
60402
7087886082
Berwyn Bait & Tackle
6742 W. Ogden Avenue
Berwyn
IL
60402
7087889760
Novis
6746 W. Ogden Avenue
Berwyn
IL
60402
7087490895
Oak Park(S)
Walgreen Drug Stores Stores<!sic>
6800 W. Ogden Avenue
Berwyn
IL
60402
7087499258
Kenilworth(S)
Clark Gas Station
McDonalds
Bacci Pizzeria
6920 W. Ogden Avenue
Berwyn
IL
60402
7087881700
Clinton(S)
Central Federal Savings & Loan
6940 W. Ogden Avenue
Berwyn
IL
60402
7087957200
Taco Bell
6956 W. Ogden Avenue
Berwyn
IL
60402
7087494747
Home(S)
Cassidy Tire Co
7000 W. Ogden Avenue
Berwyn
IL
60402
70848437754843775
Wedonah(S)
Suburban Dodge of Berwyn
7050 W. Odgen Avenue
Berwyn
IL
604023653
7084841200<!website has a fax number>
Wisconsin(S)
Harris Bank
7100 W. Ogden Avenue
Berwyn
IL
60402
7084842900
Blockbuster Video
7122 W. Ogden Avenue
Berwyn
IL
604023655
7087880059
Turn south on Harlem
Berwyn Fruit Market
Tamayo Financial Services
3833 Harlem Avenue
Berwyn
IL
60402
7087957000
Kathy's Hacienta
Berwyn Amoco
3845 Harlem Avenue
Berwyn
IL
60402
7087492220
Enter Stickney at Pershing east side of street heading south
Pershing<! Road>
Shell
Stickney
Jewel
Stickney
Charter One Bank
Stickney <!south heading west>
Turn west on Joliet Road
Sam's Food & Liquor Drive-in
7801 43rd Street
Lyons
IL
60534
7084472009
66 Realty
43rd Street
Lyons
IL
60534
Pompei Produce
7853 43rd Street
Lyons
IL
60534
7084428884
7911 43rd Street
Lyons
IL
60534<!next east? is 4310??>
Driveshafts Unlimited Inc
4323 Joliet Road
Lyons
IL
60534
7084472211
Docdor Cycles Inc
4323 Joliet Road
Lyons
IL
60534
7084473570
New Apartment Building
4325 Joliet Road=4325 Prescott Avenue
Lyons
IL
60534<!was vacant>
Elisabet Yanez
4337 Prescott Avenue
Lyons
IL
60534
7084429188
<!Sandoval not in book>
4341 Prescott Avenue
Lyons
IL
60534
4345 Prescott Avenue
Lyons
IL
60534
4347 Prescott Avenue
Lyons
IL
60534
44th
Target Store
9250 Joliet Road
Hodgkins
IL
60?
7083872350<!pharmacy 3872361>
Ulta 3<!The Cosmetic Savings Store Inc. The Hair Salon>
9270 Joliet Road
Hodgkins
IL
60?
7084859120
Petco
9270 Joliet Road
Hodgkins
IL
60?
7084857387
Radio Shack<!Consumer Electronics Stores>
9270 Joliet Road
Hodgkins
IL
60?
7083871328
Sears Optical
9270 Joliet Road
Hodgkins
IL
60?
7084851490
Cost Cutters Family HairCare
9270 Joliet Road
Hodgkins
IL
60?
7083870868
Family Christian Stores
9270 Joliet Road
Hodgkins
IL
60?
7083879091
Play It Again Sports
9270 Joliet Road
Hodgkins
IL
60?
7084854851
Office Max<!The Quarry Shopping Center>
9290 Joliet Road
Hodgkins
IL
60?
7083872303
Subway Sandwiches
9320 Joliet Road
Hodgkins
IL
60?
7084855322
General Nutrition Center
9322 Joliet Road
Hodgkins
IL
60?
7084857290
Ritz Camera<!The Quarry>
? Joliet Road
Hodgkins
IL
60?
7084856229
Kohl's
9350 Joliet Road
Hodgkins
IL
60?
7083528242
The Dress Barn
9430 Joliet Road
Hodgkins
IL
60?
7083871100
The Dress Barn Woman
Cingular
Lane Bryant<!At Spradlin Farms>
9430 Joliet Road
Hodgkins
IL
60?
7084850309
La Grange Road
the HEAT Engineering
6500 Joliet Road
La Grange
IL
60525
708 <!Countryview Plaza>
formerly Prudential Insurance & Other Financial Services
6518-32 Joliet Road
La Grange
IL
60525
708<!18,20, 24, 26,28,30,32>
Countryview Medical Center
6536 Joliet Road
La Grange
IL
60525
7084829700<!6534 Timothy O'Connor Medical Director Jeff Winterheimer?? Clinic Director>
Ras Russell T DDS
6538 Joliet Road
La Grange
IL
60525
7083542227<!Dental Care on sign on building>
Express Mail N' Ship
6540 Joliet Road
La Grange
IL
60525
7083520010<!fax7083520404>
Que PASA Cantina Inc
6542 Joliet Road
La Grange
IL
60525
7085793137<!also 6544>
Fantastic Sam's
6558 Joliet Road
La Grange
IL
60525
7083549660<!another one at 6724 Joliet road 7841240>
Coin Laundry
6560 Joliet Road
La Grange
IL
60525
708
Gold Dragon
6562 Joliet Road
La Grange
IL
60525
708
Minute Man Press
6564 Joliet Road
La Grange
IL
60525
708
Cigars
6566 Joliet Road
La Grange
IL
60525
708
Honey Fluff Donuts
6566A Joliet Road
La Grange
IL
60525
7085791826
Sparkle Cleaners Inc
6570 Joliet Road
La Grange
IL
60525
7083547880
Video 66
6576 Joliet Road
La Grange
IL
60525
7084828234<!non voice?? 8202> <!WILLOW PLAZA Honey Fluff Donuts Cleaners China Dragon neither this or gold dragon in infospace?? Video 66 Cigarettes&Cigars - Fantastic Sam's Minuteman Press Launderomat Farmer's Insurance leasing 847 439 0400 > <!fyi shell at la grange road is called old 66 shell>
LA Grange Shell
4701 Willow Springs Road
La Grange
IL
60525
7085791388 <!bank one and starbucks hear also>
Dominicks Finer Foods Inc
6704 Joliet Road
Burr Ridge
IL
60525
7082467320 <!white hen 19 w plainfield 201 w hillgrove> <!june 3, 2002 melissa gilbert on oprah about adoption> <!INDIAN HEAD PLAZA White Hen Pantry Dr. B's Audio Video Emporium WOLF'S HEAD INN A unique Candy Co MEN & WOMEN The Pomp HAIR STYLING Room J&M FEED&SUPPLY HEALTH AND FITNESS CLUB CUSTOM CLEANERS The Art of Framing DENTISTRY DR. JOHN C. SKREKO DYNAMIC SLOT CARS & HOBBIES LEASE INFO (773) 622-6332>
State Bank of Countryside
6734 Joliet Road
La Grange
IL
60525
7084853100
Lyonsville Congregational Church
La Grange
IL
60525
708
Flagg Creek Golf Course Restaurant
6939 Wolf Road
La Grange
IL
60525
7082463336
Flagg Creek Golf Course Restaurant
6939 Wolf Road
La Grange
IL
60525
7082463336
Pomp Room the BTY Salons
6934 Wolf Road
La Grange
IL
60525
7082468680
Custom Cleaners
6930 Wolf Road
La Grange
IL
60525
7082466144
J & M Feed and Supply Inc
6928 Wolf Road
La Grange
IL
60525
708246FEED 7082463333
White Hen Pantry
6925 Joliet Road
La Grange
IL
60525
Dr. B's Audio Video Emporium
6927B Joliet Road<!19 Countryside Plaza>
La Grange
IL
60525
Former location of Dynamic Slot Cars & Hobbies
6927B Joliet Road<!19 Countryside Plaza>
La Grange
IL
60525
<!7083526630>
Lions Tae Kwon Do & Karate
6929 Joliet Road
La Grange
IL
60525
7082468445
The Art of FRAMING
6931 Joliet Road
La Grange
IL
60525
A unique Candy Co
6933 Joliet Road
La Grange
IL
60525
Skreko John C DDS
6935 Joliet Road
La Grange
IL
60525
7082461263
WOLF'S HEAD INN
6937 Joliet Road
La Grange
IL
60525
Mazon Construction Company
Joliet Road
La Grange
IL
60525
Chicagoland Roofers Training
Joliet Road
La Grange
IL
60525
NORTHWEST Trucks Of Bolingbrook Inc.
201 W. South Frontage Road
Bolingbrook
IL
60440
6302260900
ARROW Truck Sales, Inc.
245 W. South Frontage Road
Bolingbrook
IL
60440
6302261600<!also 1780>